We offer some of the best Dining Room Designs in Kolkata
Most of the families consider the dining room to be the place where the family meets and shares important meals throughout the day. Because it is an important place in the entire house. Thus, it is really important to get the dining room design right.
First and foremost, the thing that you need to keep in mind while designing a dining room is the utilisation of available space. Placing the tables, chairs, storage cabinets, and lighting keeping the space in mind is a vital point to remember. Everything from the tables to chairs, lightings to the walls if designed carefully showcases a flawless dining room interior design.
How should your dining room interior design be like?
Designing your dining room should start with the basic ideas, the size of the room and who are going to use the room. In case you want to increase the number of seats, you can place benches along the walls or a folding table at one corner.
A dining room demands to look equally delicious as your food, also, inviting and relaxing, so that people waiting for the food to be served can increase their appetite by just looking at your walls. You can go for both bold and rich colours or lighter shades, depending on the mood you want to create.
Also, you need to keep in mind the comfort of your guests along with the style of an ideal kitchen interior. Keep the dining room accessible for your guests, they should get enough space for free movement.
What to watch out when designing your dining room?
The prime point of focus while designing a dining room is the lighting. The table needs to be properly lit to showcase food and dinner placings, but the surrounding area need not be equally lit, thus, you can place special lights there.
Dining room and furniture need to look good and at the same time stay long lasting. Since children can easily end up damaging your cutlery and satin fabrics. Thus, durable materials like wood should be used. Restraint is important while deciding the dining room design, choose suitable curtains, flowers and accessories.
Which colours should I choose for my dining room?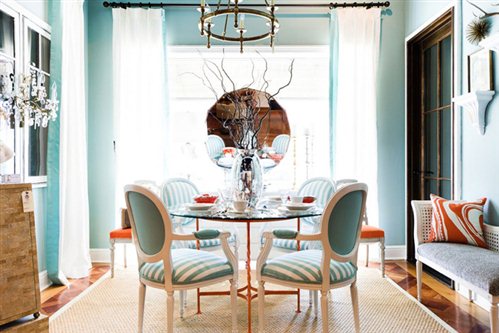 For the best dining room interior design go for contrasting colours. Shades of blue and red combine great with each other and also if combined with the perfect accessories. If you want a modern dining room you can choose pure or white or pastel shades for wall colour.  In that case, you need to keep in mind, lighter shades can evoke a feeling of blandness, so you need to add colourful details.
Eating is a pleasure for which the peace of mind is very important, thus it requires an elegant setting to make guests feel at ease.
What to look for while buying furniture for the dining room interior designing?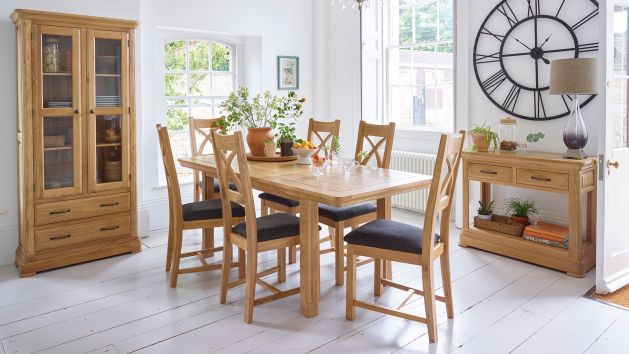 Dining room furniture is a vital part, so you have to be extremely wise while choosing furniture for the dining room. You need to look for comfortable seatings that will be durable as well as sturdy and can resist food and drinks abuse on them.
For rustic designs, rugged wooden chairs would be a perfect choice, and also carved wooden benches. In case of modern dining room interior design, metals are the material mostly chosen.
The table is the focus of the entire dining room and thus, it is generally wooden or glass-topped. If you are short on space, you can think about fold-down tables or winged tables as well.
Decorating small dining rooms:
Just like any other room in the house, designing a small dining room is a herculean task. However, with some handy dining room ideas, you can create a wonderful space. Begin with colours, use lighter tones and ensure the use of appropriate lighting in your dining room.
Arrange seating spaces carefully and cleverly to create an airy and spacious feeling. Benches placed against the walls can add up to the illusion of extra space.
Different dining room interior designs
Country style dining room interior design:
Country style dining rooms create a traditional feel by incorporating sturdy hardwood tables, chairs and flooring. Whitewashed walls and contrast ceilings with the richly coloured wood for creating a fine effect, wooden beams add extra historical authenticity, and hand made white cabinets and plush carpets add the required elegance.
Modern style dining room interior design:
Modern dining rooms are all about staying in tune with the most up to date trends in dining room interior design. Modern dining rooms will therefore often be easy to reshape and renovate so that they keep up with style developments. Expect to use glass-topped tables, sleek metal chairs and plenty of natural light provided by large windows. The energy of the best modern dining rooms is also generally complemented by clever use of décor like modern artworks.
Eclectic style dining room interior designs:
This is the most creative of all dining room interior designs.  It is a combination of wild and imaginative elements along with wooden floors, metal chairs and luxurious rugs. It also implies that eclectic dining room interior designs can either be a huge success or great failures to maintain the strike balance.
Scandinavian style dining rooms:
The Scandinavian style of interior design is an internationally famous design combining the use of natural materials and modern design techniques. The dining rooms are generally designed of richly toned hardwoods from the tables to the floors and cabinets. Wood is supplemented by pure white walls and minimum of decoration. Scandinavian design is pure and elegant.
Minimalist dining rooms:
Minimalism is the art of creation with minimal effort which means picking exactly the correct pieces of furniture. Minimalist dining rooms rarely include soft furnishings or bright colours. They tend to incorporate other features like cabinets which would blend into the walls, seeking to reduce the appearance of the room into an exquisite harmony.
Tips for decorating your dining room
Not only design but decorating your dining room is equally important so you need to take the effort to carefully arrange for the correct decor for your dining room. Display your beautiful porcelain and plate sets through your cabinets along with the right blend of colours in flowers, curtains and wallpapers.
Wallpaper is yet another fantastic way to create a more interesting appearance, while lampshades can be an integral part of the dining room interior designing. Handcrafted table settings and candles can also be used to change the mood.